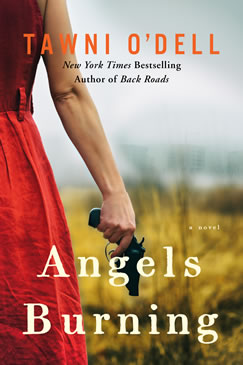 From New York Times bestselling author Tawni O'Dell comes her latest literary thriller about a small town police chief who's forced to dig into her own shadowy past as she investigates the murder of a teenage girl.
About the Book
On the surface, Chief Dove Carnahan is a true trailblazer who would do anything to protect the rural Pennsylvanian countryside where she has lived all fifty of her years. Traditional and proud of her blue-collar sensibilities, Dove is loved by her community. But beneath her badge lies a dark and self-destructive streak, fed by a secret she has kept since she was sixteen…
When a girl's body is beaten to death and tossed down a fiery sinkhole in an abandoned coal town, Dove is faced with solving the worst crime of her law enforcement career. She identifies the girl as a daughter of the Truly family, a notorious dynasty of redneck irascibility and petty criminals.
During her investigation, the man convicted of killing Dove's mother years earlier is released from prison. Still proclaiming his innocence, he approaches Dove with a startling accusation and a chilling threat that forces her to face the parallels between her own family's trauma and that of the Trulys.
With countless accolades to her credit, author Tawni O'Dell writes with the "fearless insights" (The New York Times Book Review) she brought to the page in Back Roads and One of Us. In this new, masterfully told psychological thriller, the past and present collide to reveal the extent some will go to escape their fate, and in turn, the crimes committed to push them back to where they began.
"In Angels Burning, Tawni O'Dell ratchets up the suspense with stunning twists and turns that send the unsuspecting reader careening toward a shocking ending. Angels Burning is a no-holds-barred, page-turning, perfectly crafted thriller that kept me reading long into the night. I can only hope that this is not the last we hear of O'Dell's feisty and complicated protagonist Dove Carnahan." — Heather Gudenkauf, author of THE WEIGHT OF SILENCE
"With a writer as insightful as Tawni O'Dell, and a protagonist as fascinating as Dove Carnahan, from the first page you brace yourself for the hard truths of the town of Campbell's Run. Angels Burning lives up to every bit of its promise. This is a terrific book." — Jamie Mason, author of THREE GRAVES FULL and MONDAY'S LIE
"O'Dell returns with a captivating mystery… Filled with surprising twists and turns, this whodunit in a sullen town is a page-turner." –Kirkus Reviews