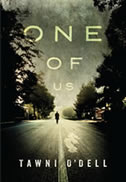 One of Us
From the New York Times bestselling author of Back Roads comes a fast-paced literary thriller about a forensic psychologist forced to face his own demons after discovering his small hometown terrorized by a serial killer.
About the Book
Dr. Sheridan Doyle—a fastidiously groomed and TV-friendly forensic psychologist—is the go-to shrink for the Philadelphia District Attorney's office whenever a twisted killer's mind eludes other experts. But beneath his Armani pinstripes, he's still Danny Doyle, the awkward, terrified, bullied boy from a blue-collar mining family, plagued by panic attacks and haunted by the tragic death of his little sister and mental unraveling of his mother years ago.
Danny returns home to Lost Creek, a town grappling with its own ghosts, and comes face-to-face with the town's legacy of violence—when a dead body is discovered at the famous gallows where a band of rebellious Irish miners was executed 100 years ago. The body also has an eerie connection to the wealthy mining family behind the miners' deaths. When he teams up with a veteran detective and father figure to get to the bottom of these heinous crimes, Danny realizes that he's dangerously close to uncovering haunting secrets from his own past…
In this masterfully told psychological thriller in the vein of Gillian Flynn's Gone Girl, the past and present collide to put Lost Creek's long-lived ghosts to bed.