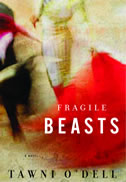 Fragile Beasts
When their hard-drinking, but loving, father dies in a car accident, teenage brothers Kyle and Klint Hayes face a bleak prospect: leaving their Pennsylvania hometown for an uncertain life in Arizona with the mother who ran out on them years ago. But in a strange twist of fate, their town's matriarch, an eccentric, wealthy old woman whose family once owned the county coal mines, hears the boys' story. Candace Jack doesn't have an ounce of maternal instinct, yet for reasons she does not even understand herself, she is compelled to offer them a home.
About the Book
Klint Hayes is a troubled high school baseball star burdened by the weight of an entire town's hopes for redemption and glory along with a terrible secret of his own. His younger brother, Kyle, is a bright, artistic boy, a victim of place and class who has to conceal his talent and idealistic nature in order not to be ostracized by the proud, bitter remnants of the dying blue collar world in which he lives. The two boys are suddenly faced with the trauma of their father's violent death and the return of a mother who left them years earlier and now wants to take them away from the only home they've ever known.
Candace Jack is the closest thing Laurel County has to a queen. Feared, respected, wildly wealthy, reclusive and acid-tongued, she's the sister of the legendary Stan Jack, the founder of J&P Coal. A lifetime ago, she had an affair with the famed Spanish torero, Manuel Obrador. His horrible death, and her subsequent obsession with the bull that killed him, the country that created him, and her inability to stop mourning him have kept her imprisoned in the past. Now in her seventies, hers is a painful world where beautiful ghosts jostle the disappointing living for a place in her heart.
Luis Martinez was a stubborn, taciturn young man barely out of his teens and Manuel's devoted assistant when Candace brought him to America from his native Spain to care for the toro bravo that killed the man they both loved. He has been with Candace for over forty years now, playing the role of her sarcastic ally and sentimental enemy, his wit and talent for Castillan cooking holding together a most atypical household.
Set against the bruised backdrop of Pennsylvania coal country and the flamboyant bull rings of southern Spain, the story takes place during one tumultuous year when these four unlikely souls are brought together under Candace's palatial roof in this riveting novel that unflinchingly confronts issues of class, love, and what makes a family.