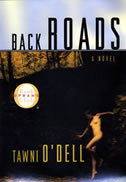 "One day you're that guy who's happy he managed to survive high school and get that almighty piece of paper, and you're thinking you might try to get a job at Redi-Mix concrete where your dad's worked since the beginning of time. And at least you've got a family you can stand even if they are all sisters.
One day you're that guy, and the next day you're assigned to a social worker and a therapist and given the choice of either being a LEGAL ADULT with three DEPENDENTS or an ORPHAN with NOBODY."
About the Book
Harley Altmyer should be in college drinking beer and chasing girls. He should be freed from his stifling coal town with its lack of jobs and no sense of humor. Instead he's marooned in the Pennsylvania backwoods caring for his three younger sisters after the shooting death of his physically abusive father and the arrest of his mother. His existence has become a joyless, exhausting blur of day care, mac and cheese dinners, working two minimum wage jobs, and monthly prison visits to a once-devoted mother who seems not only resigned but glad to have handed over the reins of parent and homemaker to her young son. As he sees it, his life is "lousy with women. All ages, shapes, sizes and levels of purity." Frustrated, overwhelmed, plagued by violent fantasies and trapped by feelings of love and duty, he's a guy in an impossible situation: an orphaned child with the responsibilities of an adult and the fiery, aggressive libido of a teenager.
Life is further complicated when he develops an obsession with the sexy, melancholic mother of two down the road. Family secrets and unspoken truths threaten to consume him as his obsession deepens and she responds unearthing a series of staggering surprises. In the face of each unexpected revelation and through every wrenching ordeal, Harley does the best he can to hold it all together. Violent and disturbing yet touching and darkly funny, Harley's story is ultimately a search for his own self-worth as he slowly comes to realize that survival is a talent.